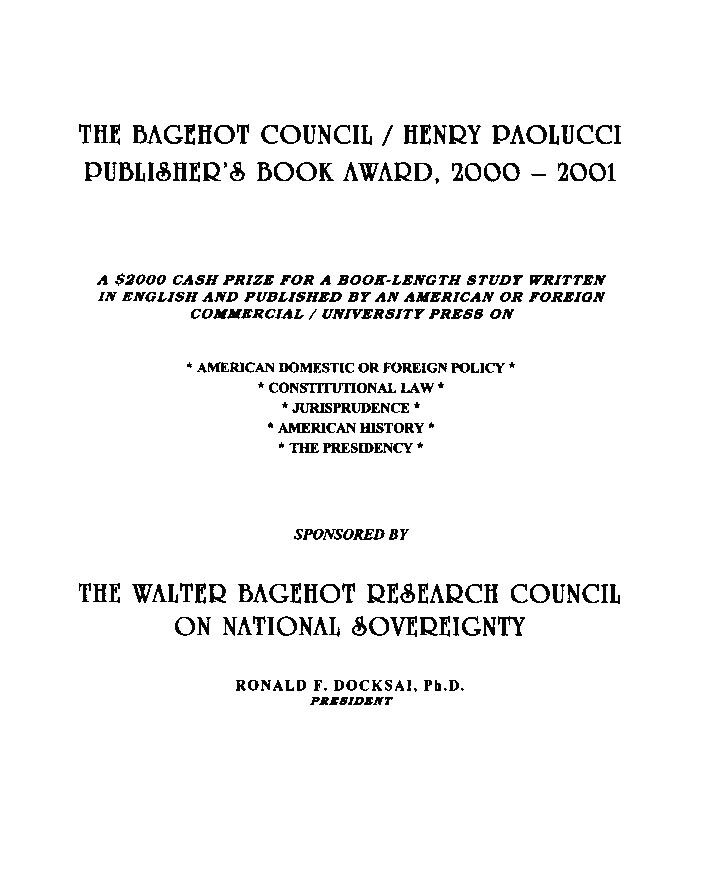 ENTRY FORM

(PlLEASE PRINT THIS PAGE)

(Return this form, or a copy, with the materials requested.  If submitting more than one title,

fill out a SEPARATE ENTY FORM FOR EACH SUBMISSION.)

* TITLE OF BOOK:

*NAME, ADDRESS, TEL.# OF AUTHOR(S):

1.

2.

*NAME, ADDRESS, TEL # OF PUBLISHER

*PUBLISHER'S CONTACT (Name, address, Tel./FAX):

*DATE OF PUBLICATION (please include copies of promotional letter and Review Copy card)

*SHORT DESCRIPTION OF BOOK:

*SIGNED (Publisher's contact):

*DATE:

* NOMINATIONS:  Books published during the calendar year 2000 by any American or Foreign commercial/university press on subjects dealing with AMERICAN DOMESTIC OR FOREGIN POLICY, CONSTITUTIONAL LAW, JURSIPRUDENCE, AMERICAN HISTORY or THE PRESIDENCY are eligible. All nominations (no more than THREE) must come from the publisher.  Books submitted must be written in English.

* Translations or galley proofs and privately printed books are inelgible.  Two copies of each book nominated must be submitted, together with a short biography of the author(s), completed entry forms, copies of promotional materials used in distributing and advertising the book, and an entry fee of $30 for each titel submitted.

* DEADLINE FOR NOMINATIONS: June 8, 2001

*ANNOUNCEMENT OF WINNING TITLE:  September, 2001.  The award will be presented some time in October-November 2001 (date to be announced) at the City Club in Washington, D.C.

*ENTRY FEE: $30 per title submitted

*PRIZE: $2,000

All decisions of the judges are final

(Materials submitted will not be returned)

MAIL BOOKS AND OTHER MATERIALS REQUESTED, TOGETHER WITH COMPLETED ENTRY FORM(S), TO:

THE BAGEHOT COUNCIL/HENRY PAOLUCCI BOOK AWARDS

P.O. BOX 30727

WILMINGTON, DE 19805-7727

(Tel. & FAX: (302)656-5651)

_________________________________________________________________

WINNER OF THE 1999-2000 BAGEHOT COUNCIL / HENRY PAOLUCCI BOOK AWARD:

VINDICATING THE FOUNDERS BY DR. THOMAS G. WEST

ROWMAN & LITTLEFIELD PUBLISHERS

_________________________________________________________________

THE WALTER BAGEHOT RESEARCH COUNCIL

THE WALTER BAGEHOT RESEARCH COUNCIL ON NATIONAL SOVEREIGNTY, established by Dr. Henry Paolucci in the mid-sixties, was named after the great British political economist and man of letters, Walter Bagehot, founder and for many years editor of The Economist, one of the most important journals of the time.

Under the aegis of the Bagehot Council, Dr. Paolucci edited for over 30 years State of the Nation, a monthly newsletter dedicated to current issues dealing with American domestic and foreign policy.  His own books, like the classic War Peace and the Presidency (1969), and his last, Iran, Israel and the United States (1995), are consistent indicators of his extraordinary grasp of political matters and display the range and accuracy of his political insights.

After Dr. Paolucci's death on January 1, 1999, The Bagehot Council Board of Directors was enlarged and at its first meeting, chose a new president, Ronald F. Docksai, Ph.D., a former student and colleague of Dr. Paolucci and himself a Bagehot scholar.  The Board also voted on a new long-range agenda, which included the establishment of "The Bagehot Council/Henry Paolucci Publishers' 'Book Award," with an annual prize of $2,000. The competition is open to publishers, here and abroad, who may submit up to three books issued the previous year.

The first award was presented on October 5, 2000 at the City Club in Washington D.C. to DR. THOMAS G. WEST for his book Vindicating the Founders (published by Rowan and Littlefield).

The Bagehot Council is a Related Group of the American Political Science Association and has held meetings at the annual APSA convention since the early seventies.

The Walter Bagehot Research Council on National Sovereignty is a not-for-profit educational foundation.  For more information about the Bagehot Council or the Henry Paolucci Book Award, write to:

The Bagehot Council

P.O. Box 468

Smyrna, DE 19977

Tel. & FAX: (302)659-1791

All Contributions are tax-deductible to the extent permitted by law.