March, 2001

A New Poet Laureate is picked for the Borough of Queens

  (Quoted verbatim, from the article in the Queens Tribune, March 2001)

PRESS OFFICE

Tel: 718-286-2640

Press Releases | Press Statements | The State of the Borough | Biography of the Queens Borough President | Queens History   

PRESS RELEASES   No. 8-01 FOR RELEASE: Monday, March 12, 2001

"BOROUGH'S POET LAUREATE TO BE INDUCTED 

Mr. Hal Sirowitz was officially inducted as Queens Poet Laureate during a ceremony, Monday, at Borough Hall. Borough President Claire Shulman hailed the borough's second Poet Laureate for his "playful, urban wisdom" that has gained international recognition.

Sirowitz, a resident of Flushing, is a special education teacher at P.S. 224. He has also gained widespread recognition for his work, particularly "Mother Said," which has been translated into several languages, including Norwegian.

Shulman noted that the work is reportedly the largest-selling collection of poetry in that country since Kahil Gibran's "The Prophet" in 1926. Sirowitz has also been published in a variety of poetry anthologies. He has appeared on MTV's "Poetry Unplugged," and National Public Radio's "All Things Considered."

In his role as Poet Laureate, Sirowitz says he would like to create a program that uses poetry to help teach literacy. Sirowitz succeeds Stephan Stepenchev, the borough's first Poet Laureate. "Mr. Stepenchev's very active tenure as Poet Laureate is greatly appreciated," said the Borough President. "His many appearances at libraries, bookstores and other public venues brought poetry closer to many, many individuals," said Shulman.

The Poet Laureate serves for a term of three years. Applicants must have been a resident of Queens for at least five years and have a significant publication record, demonstrated by the publication of a collection of poetry or through inclusion in recognized journals or anthologies.

This year's runners-up were Mr. Ernest Slyman, who is editor of the on-line poetry journal "The Poet Watch," and Dr. Anne Paolucci, chair of the National Literacy Council.
The selection of the Poet Laureate is made by a committee of the Friends of the Queens College Library. The judges included: Professor Marie-Lise Gazarian, St John's University; John Watusi Branch, Director of the Afrikan Poetry Theatre; George Held, a poet and retired Queens College professor; Suzanne Noguere, a poet and magazine editor; and Stephen Stepanchev.

- 30 -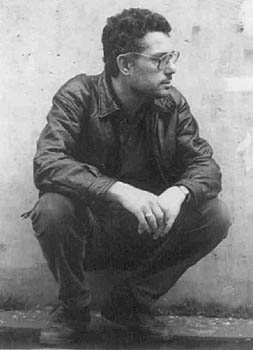 This photograph is from Mr. Sirowitz's web site. 


"Comfortable"

______________

Queensboro Bridge (and other Poems)

by Anne Paolucci         

_______________

To order: Send $12 check or M.O. ($US only) to:

CNL/Anne and Henry Paolucci International Conference Center,

68-02 Metropolitan Avenue,

Middle Village, NY 11379

____________

(Book Review by Hugh Fox)

Queensboro Bridge is mature, "educated", meditative poetry beyond the need to be hip or modish.  Here's the beginning of a poem not about Queensboro but the Throgs Neck Bridge: "The bridge straddles obscenities/As I watch dawn's early light/Pounding against my daily rocks. I water plants and look for mites/Squint for a sight of nesting/Peregrines under the span...."(p.60)

   These are "comfortable"  poems,  poems written with large vistas and backed up by all sorts of comfortable worn erudition.  There are travel poems, poems about the author herself as a professor, poems about her italian mother facing the New World, poems about literary award banquets, readings in Soho.  It's refreshing to come across someone beyond kinesticism and hip stances, someons who unapologetically taught hegel, Spencer and Dante at City College in new York and doesn't feel a need to keep sweatily up to date with the latest evolution of swinging lingoes, but accepts a kind of aristocratic autumnal ending of things with dignity and resignation: "Now, in my atlas age,/I visit orchards heavy with apples,/Wrapped in brown parka.  I drive to country inns in Maine/For Sunday Brunch.  Sometimes I bring a friend." (p.40)

Queensboro

Bridge

(and Other Poems)

ANNE PAOLUCCI

Queensboro

Bridge

_______________

My favorite, too, of all crossings

Into the City. Fitzgerald was right,

Canyons, gorges, suddenly rising

Before you, are a part of mystery

Never unraveled, a wild promise.

I understand the words,

But when I try to see what he saw,

In his leap across the span

Of his own startled vision

I'm not sure I can.

And yet, as I turn off

The bridge behind me,

Driving faster than he ever could

Or did, down the avenue,

I know I'm in Gastby country.

_____________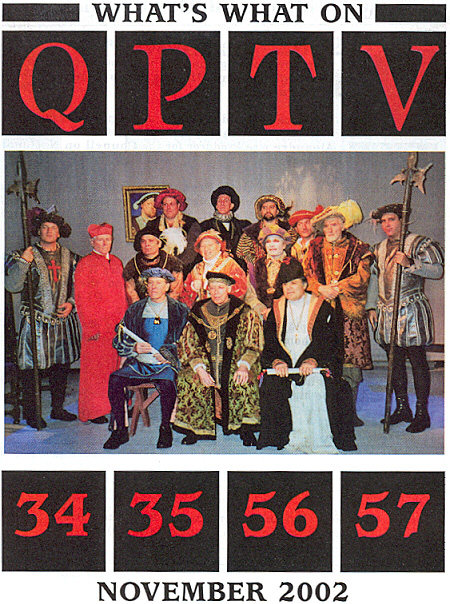 "Minions of the Race" - an Award-Winning Play by Anne Paolucci, now in Video Format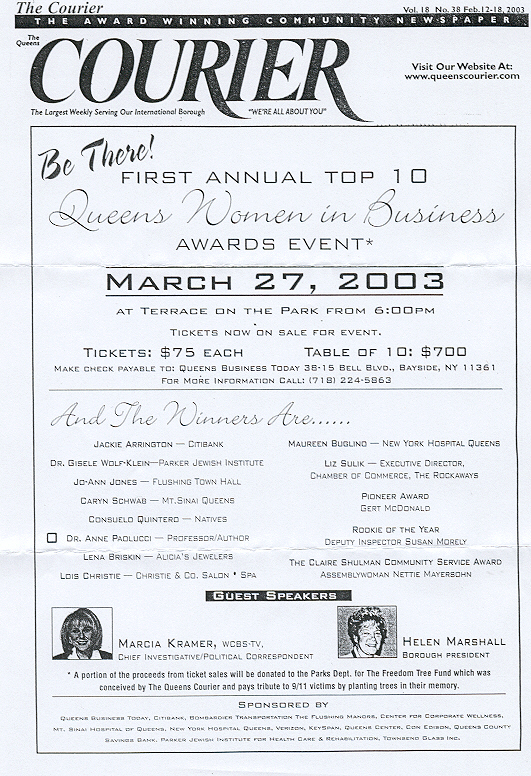 Dr Paolucci wins First Annual "Women in Business" Award

March 27, 2003  (Above)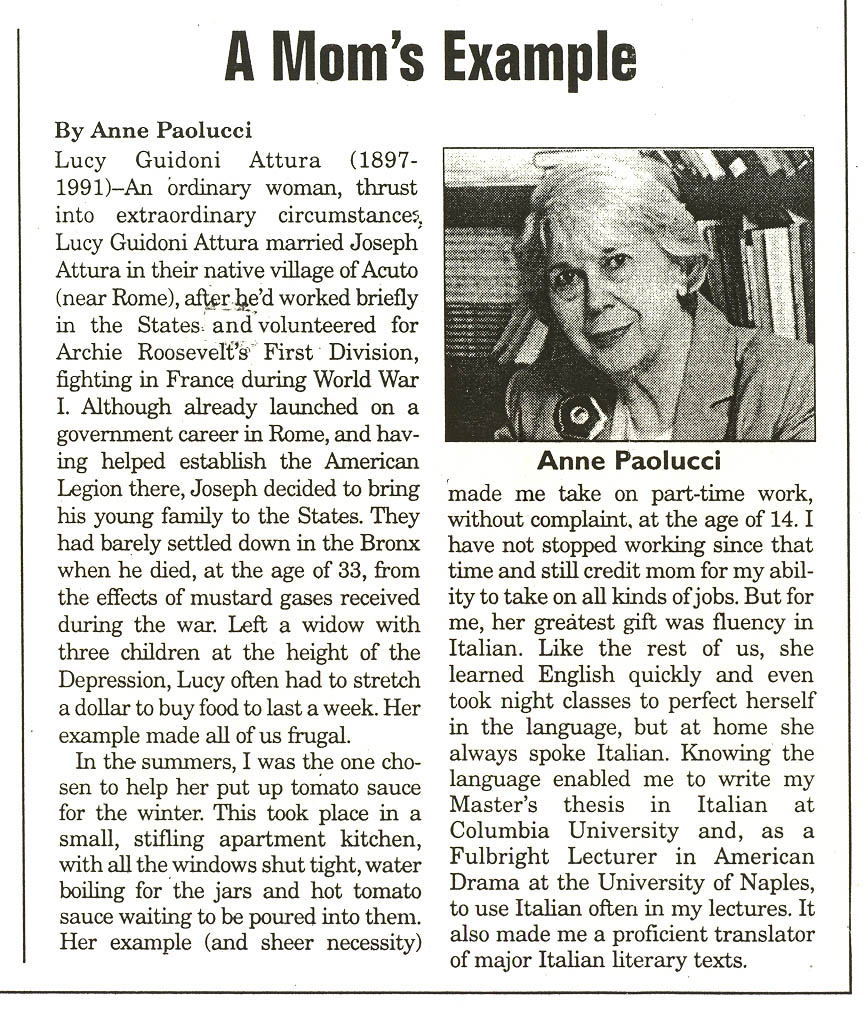 Sunday, Jabuary 22 2006

1) THE AMERICAN FOUNDATION OF ITALIAN ARTS AND LETTERS celebrates this year its 20th anniversary. It was founded in 1986 by Comm. Anne Paolucci, Ph.D., under the aegis of the Council on National Literatures, as a vehicle for the promotion of Italian literary, artistic, and cultural values, through the publication of books on major Italian authors, lectures, art exhibits, and special events that keep the rich legacy of Renaissance and modern Italy alive in the United States and elsewhere in the world."

2) THE PIRANDELLO STUDIES INSTITUTE founded in 2001 by Comm. Anne Paolucci, Ph.D., celebrates this year its 5th anniversary. Under the aegis of Council on National Literatures, PSI promotes programs and projects that underscore Pirandello's pervasive influence as the playwright who revolutionized the modern stage in every part of the world and has come to be recognized -- in the words of critic/director Robert Brustein -- as "the father of the contemporary theater."